Putting the WOW back in Pictures!
All content on this web site is copyrighted. It is illegal to copy, post, publish or print any files, pictures or text without permission.
...
Photography by Ted Keller provides compelling photographic art as archival prints and stunning stock images for your publications. Walls of many homes, offices, and businesses are decorated with our enlargements sold on-line, in art/craft stores, and at trade fairs.
Ted Keller's images have been published in brochures, calendars, greeting cards, newspapers, magazines, books, and advertisements for more than two decades. He recently published the photo book "Fifty Feisty Photos For Daily Encouragement." (see our page dedicated to the book).
Select images from our on-line "Collections" to purchase enlargements professionally printed by Shutterfly.com in a variety of sizes up to 20" x 30" on glossy, matte, or canvas surfaces. Your prints and other purchases will be mailed directly from the printer to your location.
Link to our gallery: http://www.shutterfly.com/progal/gallery.jsp?gid=768a5498ce7f3521d879
to View Many More Images and to Purchase Prints and Photo Gifts
We can teach you to make your own "WOW" images with your camera, phone, or any imaging device! Ted Keller offers mini-workshops and classes, and he is available to work with you as a "personal trainer" to enhance your photographic skills. He blends state of the art photographic technique with proven continuous process improvement disciplines from industry. We offer portfolio reviews and constructive critiques of your best work. In addition, we are well-known for helpful analysis of your disappointing photos to provide explanations of what is most likely causing your problems.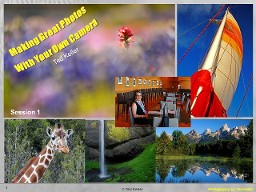 Multimedia Classroom Sessions On-location Instruction
..
Personal Training Special Projects and Techniques
Our standard classes include: Basic Photography (Travel/Scenic Photography, Amateur Sports Photography, Close-Up Photography and Candid People & Pet Photography); Basic Photoshop Use; Wildlife Photography; and Advanced Photography. We also provide custom classes; we offer mini-workshops; and we can arrange and lead instructive photographic expeditions for your group. Freelance assignments are accepted.
Use our "Request/Sign-Up" page to register for advertised classes that are posted on our Special Events page or to request classes (standard or custom). Simply specify your class interest in the "Message" section of the form.
For your special events or vacation memories we can produce multimedia slide shows using your own pictures or our stock images. Mr. Keller authors photography-related articles for publication and gives multimedia lectures on nature photography and conservation. He is available as a photographic consultant to assist you with special imaging projects such as special effects or shooting in difficult or challenging situations.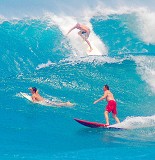 We Can Assistance You in Planning for Shooting in Difficult Situations and Creating Special Effects
We are always interested in sharing our photos in exhibits (current displays are listed on our Special Events page). Businesses and restaurants are invited to decorate their walls with our photographs in exchange for the opportunity for their clients to purchase our artwork (consignment arrangements are negotiable). Use our "Request/Sign-Up" page to make requests or notify us of submission opportunities.
Ted Keller's Photos on Exhibit His Photos Decorating a Cafe
...
Read more about Ted Keller's photographic experience and his qualifications as a photography trainer on our "About" page.
Photography by Ted Keller Mission Statement
We applaud the splendor of creation through evocative nature photographs and teach others how to do the same.
Our Definition of Nature Photography
"...stand still, and consider the wondrous works of God "
[Job 37:14]
We practice what we teach and are committed
to deliver excellence in everything we do.
References Upon Request
_______________________________


Spectacular imagery and photographic training are only two of the product lines of Ted Keller Consulting & Services, LLC. Our core services also include expert consultation, training and assistance to small businesses and Fortune 500 Corporations in the disciplines of:
·

Service & Process Governance

·

Project Management

·

Continuous Process Improvement

·

Software Development Processes

·

Process Maturity Growth

·

Software Reliability Engineering

·

Quality Management
Read more on our "Business Consulting & Services" page.
References Upon Request
________________


© Ted Keller